Maybe you've loved photography forever, but want to become better. Maybe you're a beginner who is just starting out. Maybe you're just bored and stumbled across this post. In any case, here are some tips on photography.
I was thirteen when my mom started taking classes on professional photography. Within a few months, she began teaching my sister and I how to use our cameras. Thanks to her, my photography has improved dramatically.
I. Use The Camera That You Have
You don't have to have a fancy camera to take beautiful pictures. I've seen AMAZING photos captured with phones. The secret is learning how to use what you have well.
II. Learning Takes Time
I was so frustrated when I started doing photography. None of my pictures were turning out well (in other words, they didn't look like my mom's) and I wanted to trash my camera and forget about the whole thing. But I kept going and you know what? My pictures got better. There were still a lot of bad ones, but there were good ones, too. Don't be discouraged if your pictures are terrible in the beginning. Keep trying. Practice makes progress.
III. Experiment With Settings
For all thirteen years of my life, I had kept my camera on Auto. My mom encouraged me to try the Manuel setting. I hated it. It was confusing and I couldn't get my pictures to look good. Now it is all I use. Manuel allows me to control a lot of things about the image and to create different, unique looks.
IV. Take A Lot Of Pictures
This is really important. Take your camera with you wherever you go and practice during spare moments. Who knows when an awesome picture will come up?
V. Talk To Other Photographers
Find other photographers and join them on their journey! Learn together. Share successes and failures.
Talk to professional photographers and ask for their honest opinion on your work. Ask for them to give you hints and tips on improving your images. Constructive criticism stings sometimes, but it is absolutely necessary to grow as a photographer.
VI. Study
Take online classes. Read books. Watch pro-photographers in action.
VII. Learn The Basic Rules
Once you know the foundations of good photography (lighting, colors, composition & balance, settings, etc) you will be able to move on to the harder stuff.
VIII. Photograph What You Love
My dad loves to do landscape photography and his images are breathtaking. My mom, on the other hand, does amazing portrait and documentary photography. I love taking pictures of flowers, plants, still life and occasionally portraits.
You are unique. Capture what you love.
IX. Avoid Using Flash
I haven't used flash in three or four years. That being said, there are amazing photographers who use flash to create lovely images. However, most beginners cannot do that and the picture is normally ruined because of it. Turn off your flash and learn how to capture photos in low light without it.
X. Lighting Is Everything
I cannot stress the importance of light when it comes to photography. Different kinds of light will drastically change the way that your picture impacts you and your viewer.
Just before sunset is a time called Golden Hour. Pictures taken at that time will appear glowing, warm and rich. It is often a favorite time to take photos among photographers. Twenty to thirty minutes after the sun sets and before it rises, is a time called Blue Hour because the light appears very blue. Pictures taken at this time of night will be cold and aloof feeling (but really cool and unique, I might add!)
Images taken when the sun is high in the sky will have very harsh shadows and hard light. It is very unflattering for portrait photography, but it can create really cool effects if used right.
Take pictures at different times during the day and observe the differences.
XI. Composition and Balance Is Important
This is super important to me personally. The way that a photo is laid out can make or break it. Look at the difference between these two photographs:
Everything in the two images are exactly the same. I didn't change the lighting or my camera settings But the first picture feels so much better than the second. Why is that? Composition and balance. In order to draw your viewers eye to the subject of your image, you must lay it out well.
XII. Pay Attention To Color
A pop of color on an otherwise colorless picture will grab your viewers eye immediately. An image with a combination of yellow and blue or yellow and red will create a stunning impact.
Colors are so important in photography. They're one of my favorite things to play around with. Try different color combos and see what your eye is most drawn to.
XIII. HAVE FUN
This is the most important tip that I can give you. HAVE FUN! Don't stress about getting your pictures perfect. Just relax and enjoy photographing the things that you love! Capture those moments of excitement, beauty and joy. You'll do great! 🙂
---
My camera and lenses:
I have a Fugi-XT1 camera with a 23 mm lens. In the past, I also had a Nikon D80 with a 50 mm lens (as well as several other lenses, but the 23 and the 50 mm are the main ones I use).
If you're interested in seeing more of my work or my parents, you can find the links below. 🙂
My parents website: http://www.sincerusphotography.com/
My website: https://daughterofthelight.blog/category/photography/
WOW! That was Hattush you guys! And these are some FANTASTIC tips! I'm interested in photography, so these tips are VERY useful! Thank you so much for participating in this contest, and sharing this, Hattush!
Hattush's blog, Daughter of the light has some wonderfully written content! You can find some funny stories, and lots of lifestyle posts! Her blog is so entertaining to read, and it's definitely worth checking out!
and now, here is a little bit about Hattush. (This was penned down by Hattush herself🎆)
My name is Hattush. I am a Christian teen who loves iced coffee, sugar gliders, writing and reading. During the day, you can find me lost creating my own fantasy world, baking cookies (and eating cookie dough, OF COURSE), taking pictures or blogging. If you found me at night, I'd either be watching a movie (while eating more cookie dough), or playing with my sugar gliders, Ink and Dreamer. I absolutely love traveling. Offer me a vacation or trip anywhere, and I'm there! 😉 I've visited thirty-four states and have lived in six.I started my blog back in 2018, after my younger sister begged and begged me to. 😉 I did it just for fun, without a real nitche (except maybe the theme of randomness). It has become a wonderful place of community, friendship and, of course, FUUUN! My posts are random, weird and reflect little me's personality. 🙂
Hope you enjoyed!! Do you like photography? Tell me in the comments!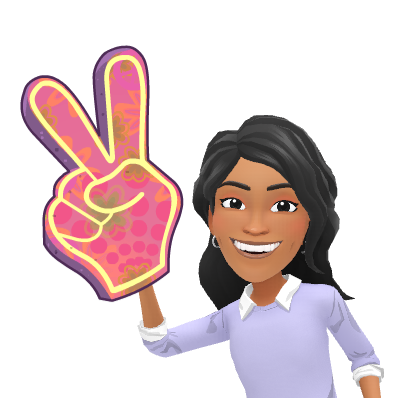 (and that means "peace out!")